Wywiady SuperPatsonFCB @19.03.2017 | Przeczytano 104 razy
Trener Sevilli skomentował plotki łączące go z objęciem stanowiska trenera Barcelony.
Po tym, jak Luis Enrique ogłosił, iż po sezonie odchodzi z Barcelony, Jorge Sampaoli wyrósł na jednego z największych kandydatów na jego następcę. Trener Sevilli miał nawet rozmawiać z przedstawicielami Dumy Katalonii.
Argentyńczyk na konferencji prasowej przed meczem z Atletico zdementował jednak te plotki twierdząc, iż Barca nie kontaktowała się z nim.
Nie muszę przedłużać umowy, ponieważ wciąż mam obowiązujący kontrakt. Również nierealne jest, żeby Barcelona się mną interesowała, ponieważ nie kontaktowali się ze mną i nie dali żadnego sygnału.
Sampaoli wypowiedział się także na temat Monchiego, dyrektora sportowego, który łączony jest z Realem Madryt.
Chciałbym, żeby Monchi został, ale nie jest to warunek mojego pozostania. Czuję się potrzebny, chciany i szanowany, a to najlepsze uczucie jakie może towarzyszyć trenerowi.
Aktualnie największe szanse na zostanie trenerem Barcelony ma, zdaniem mediów, asystent Luisa Enrique - Juan Carlos Unzue, który już dostał dobre referencje od piłkarzy.
---
ZOBACZ TAKŻE: Barcelona chce kupić pomocnika z Liverpoolu lub PSG
---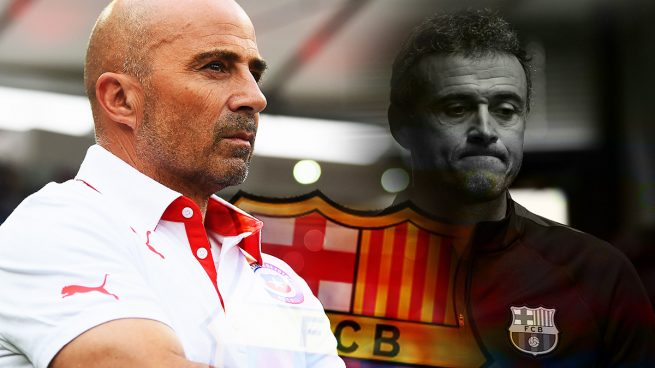 Źródło: Sport
Tagi: Barca, fc barcelona, FCB, Jorge, Sampaoli, Sevilla, Wywiady
Dziś, 11:20
5
Konkursy
KONKURS! Do wygrania autobiografia Johana Cruyffa [WYNIKI]
Wczoraj, 21:45
1
Wywiady
Eusebio o zainteresowaniu ze strony Barçy
Wczoraj, 20:44
1
Kontuzje
Kontuzja Ardy Turana na zgrupowaniu reprezentacji
Wczoraj, 15:33
1
Transfery
FC Barcelona zainteresowana skrzydłowym Monaco
Wczoraj, 15:18
2
Transfery
Manchester chce zapłacić 200 milionów euro za Neymara
Wczoraj, 12:21
5
Transfery
Coutinho za Rakiticia?!
Wczoraj, 11:54
1
Wywiady
Umtiti: Pique jest moim mentorem
Mar 26, 17:45
1
Statystyki
Barcelona krok od 800. zwycięstwa w lidze na Camp Nou
Mar 26, 17:06
0
Serwisowe
KONKURS! Przypomnienie
Mar 26, 14:42
4
Wywiady
Marquinhos: W Brazylii wciąż mówi się o remontadzie Barcelony
FC Barcelona -...
Wypowiedź...
SOM EL BARCA
Atletico...
Real Sociedad...
Barca 1-2...
Więcej
Reklama