Transfery aniajes @04.04.2017 | Przeczytano 2705 razy
Theo Hernández to jeden z tych zawodników, których łączy się z Barceloną.
Theo Hernández to zawodnik Atlético Madryt, który w obecnym sezonie występuje na wypożyczeniu w Alavés. Choć media najczęściej łączą go z Realem Madryt, to zawodnik ten podoba się dyrektorowi sportowemu Barçy - Robertowi Fernándezowi, który obserwuje go od czasu, gdy skończył 16 lat.

Barça już w ubiegłym roku myślała, o sprowadzeniu tego zawodnika, ale nie chciała ryzykować i płacić klauzuli wykupu w wysokości 24 milionów euro.

Choć Theo przebywa obecnie na wypożyczeniu, to Atlético już myśli o przedłużeniu z nim umowy i zwiększeniu klauzuli wykupu. Zawodnik jednak otrzymuje oferty z różnych klubów i na ten moment zaprzestał negocjacji z Atlético. Theo rozmawiał już z Realem, choć jeszcze niczego nie podpisał. FC Barcelona natomiast cały czas kontroluje jego sytuację. Trenerzy uważają, że ten zawodnik idealnie dopasował się zarówno do systemu 4-3-3, jak i 3-4-3, jednak głównym problemem wydaje się być fakt, że na jego pozycji występuje Jordi Alba i Lucas Digne. Nie wiadomo więc, czy Theo będzie chciał zaakceptować rolę zmiennika i czy będzie na tyle cierpliwy, by czekać na swoją kolej.
---
ZOBACZ TAKŻE: Messi przedłuży kontrakt
---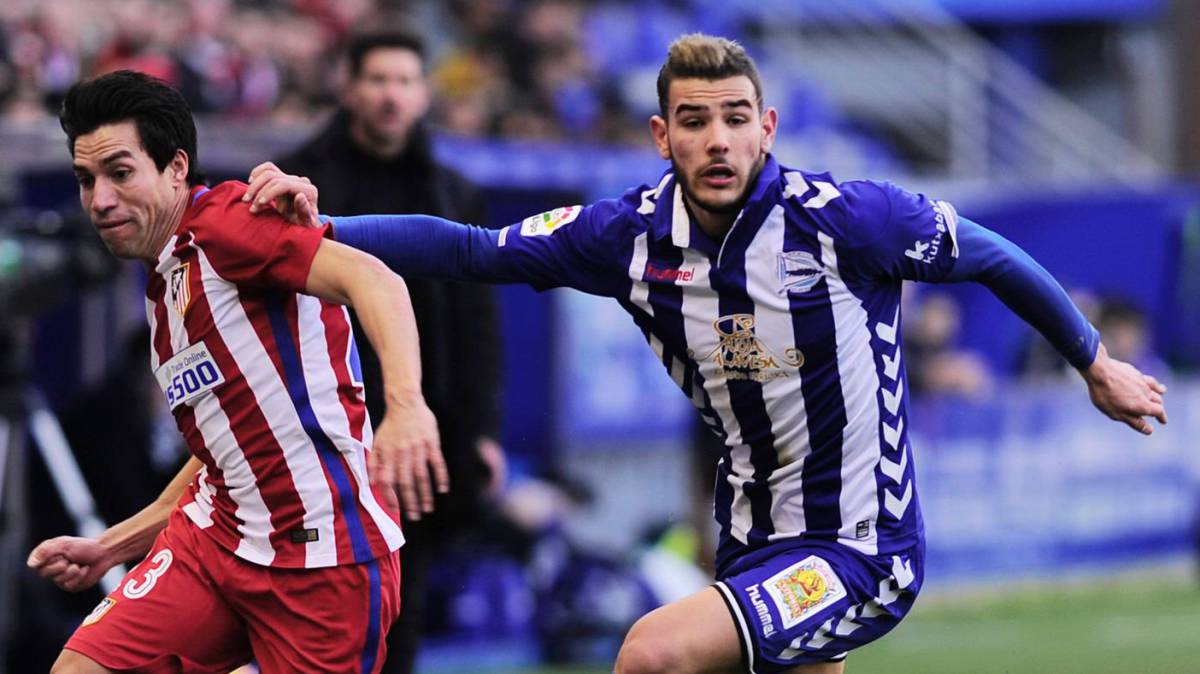 Źródło: sport.es
Tagi: Alaves, Atletico, Atletico Madryt, Barca, fc barcelona, FCB, Spekulacje, Theo Hernández, Transfery
Dziś, 15:23
1
Transfery
Barcelona wyznaczyła cenę za Turana
Dziś, 15:13
2
Transfery
Rakitic na celowniku Paris Saint-Germain
Dziś, 14:28
2
Barcelona B
Kolejna perła z La Masii odchodzi
Dziś, 14:18
1
Publicystyka
Letnie okienko, czyli keep calm and be patient
Wczoraj, 21:47
1
Transfery
Sandro Ramirez celem Realu Madryt?
Wczoraj, 17:08
1
Reprezentacje
Trio z Barcy w półfinałach ze swoimi reprezentacjami
Wczoraj, 16:24
1
Spekulacje
Riyad Mahrez zmęczony czekaniem na Barcelonę
Wczoraj, 16:08
1
Barcelona B
Carles Alena na celowniku Pochettino
Wczoraj, 09:14
2
Transfery
Verratti wściekły na włoską prasę!
Wczoraj, 08:30
8
Barcelona B
Barça B wraca do Segunda!
FC Barcelona -...
Wypowiedź...
SOM EL BARCA
Atletico...
Real Sociedad...
Barca 1-2...
Więcej
Reklama