Publicystyka Cules12 @20.06.2017 | Przeczytano 1822 razy
Zapoznajmy się z dziesięcioma ciekawymi wydarzeniami ubiegłego tygodnia!
Za nami ciekawy tydzień, więc przyszła pora, by wspomnieć dziesięć najciekawszych wydarzeń ubiegłego tygodnia. Prezentacja Abidala jako nowego ambasadora Barcelony, powrót Ronaldinho na Camp Nou, partnerstwo między FCB a ACNUR, to i wiele innych w dzisiejszym podsumowaniu.
Bardzo lubiany przez kibiców Barcy były piłkarz klubu powraca! W ubiegłbym tygodniu dogadał się on z prezesem Bartomeu i od tej pory będzie pełnił funkcję ambasadora klubu. Cules pamiętają Abidala najbardziej z wygranej walki z rakiem. oraz ze względu na niemałe umiejętności piłkarskie.
Brazylijczyk ponownie wybiegnie na murawę stadionu w Barcelonie jako piłkarz swojego byłego klubu. Nie będzie to jednak żadne oficjalne starcie pierwszej drużyny, a mecz legend Barcelony. Mimo wszystko fajnie będzie znów zobaczyć trochę magii w wykonaniu Ronaldinho.
​
Deezer dowiedział się o ulubionej muzyce piłkarzy
Dzięki popularnej platformie muzycznej, Deezer dowiadujemy się, że piłkarze FC Barcelony lubią słuchać następujących artystów: Michael Jackson, Bruno Mars, Rolling Stones i Coldplay.
Marlon Santos pozostanie w Barcelonie. Klub ogłosił, że postanowił wykupić gracza, a ten związał się z Barcą trzyletnią umową.
​
Fundacja FC Barcelony i UNHCR ogłosiły wspólną kampanię
Obie fundacje ogłosiły w ubiegłym tygodniu wspólną kampanię wspierającą dzieci uchodźców. Kampania #SignAndPass, uruchomiona przy wsparciu kluczowych graczy Barcy, stanowi ważny krok we współpracy obu fundacji.
Pique opisuje kolegów za pomocą emoji
Obrońca Barcy wziął udział w popularnym wśród piłkarzy naszej drużyny wyzwaniu, w którym miał za zadanie opisać każdego z graczy wybraną emocją. Jak zwykle nie zabrakło śmiechu!
Aleix Vidal odzyskuje stuprocentową sprawność
Prawy defensor Barcy nie spoczywa na laurach. Po stu pięciu dniach od urazu rozegrał on ostatnio finał Pucharu Króla, a do dziś ciężko trenuje, by powrócić do stuprocentowej sprawności fizycznej.
​
Rekordowa frekwencja na meczu futsalu
Kibice wspierają wszystkie drużyny Barcy, a przekonaliśmy się o tym w ubiegłym tygodniu, kiedy w sali Palau Blaugrana zgromadziło się aż 6.923 widzów.
---
ZOBACZ TAKŻE: Polityka otwartych drzwi w La Masii
---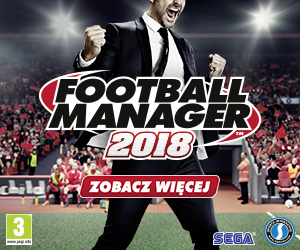 Źródło: fcbarcelona.com
Tagi: Barca, Blaugrana, fc barcelona, FCB, podsumowanie`
Dziś, 20:42
0
Wywiady
Valverde: Zrobimy wszystko, by wygrać
Dziś, 20:25
0
Kadra FCB
Kadra na mecz z Juve
Dziś, 17:47
0
Liga Mistrzów
Barca bliska awansu do fazy pucharowej
Dziś, 17:33
0
Wywiady
Jordi Alba: Barca zawsze musi wygrywać
Dziś, 17:27
0
Ciekawostki
Semedo bliski zawieszenia w Lidze Mistrzów
Dziś, 17:21
0
Zapowiedzi
Strzeż się, Stara Damo!
Dziś, 12:21
2
Transfery
Barca szykuje ofertę za Özila
Wczoraj, 21:39
3
Leo Messi
Messi rok bez wyjazdowego gola w Lidze Mistrzów
Wczoraj, 14:32
1
Ciekawostki
Luis Suarez czeka na przełamanie w Lidze Mistrzów
Wczoraj, 14:16
1
Doniesienia
Sześciu kontuzjowanych zawodników przed meczem z Juventusem
FC Barcelona -...
Wypowiedź...
SOM EL BARCA
Atletico...
Real Sociedad...
Barca 1-2...
Więcej
Reklama