Publicystyka Cezary @05.12.2016 | Przeczytano 913 razy
Źródło: SQN
Andres Iniesta - kapitan FC Barcelony, od wielu lat dumnie noszący jej barwy i cieszący się z sukcesów zarówno na szczebli indywidualnym, jak i drużynowym. Jego biografia jest pozycją obowiązkową dla każdego oddanego kibica Dumy Katalonii.
W dzisiejszych czasach spora część piłkarzy kojarzona jest z imprezami, bezsensownym wydawaniem bajońskich sum pieniężnych, zgarnianych co tydzień z klubowych kas, drogimi autami, pięknymi kobietami i luźnym stylem życie. Spora część to jednak nie całość i do reszty, o której można powiedzieć tylko tyle, że należy do tej ,,lepszej" części społeczeństwa z całą stanowczością zalicza się Andres Iniesta. Człowiek, który jak mało kto wie, co to znaczy honor, szacunek i przywiązanie do barw klubowych.
---
Wieloletni zawodnik Dumy Katalonii stał się bohaterem wielu publikacji, jednak wypuszczona na rynek przez wydawnictwo SQN pozycja pt.: ,,Andres Iniesta. Artysta futbolu" ujawnia wiele szczegółów z kariery Don Andresa, które nigdy wcześniej nie wyszły na światło dzienne. Nie są to jednak tzw. smaczki, które mogłyby podważyć zdanie o hiszpańskim pomocniku, a kulisy jego niesamowitego talentu i osobowości, która stała się nieodłącznym elementem kojarzonym z największymi sukcesami FC Barcelony.
Zapewne znaczna część kibiców piłki nożnej bez wahania uzna, że Andres Iniesta jest osobą zrównoważoną i spokojną, nie do końca oddającą rolę kapitana zespołu. W napisanej przez samego siebie biografii Hiszpan nieco dementuje te określenia, jednocześnie nie odrzucając w kąt przymiotników określających jego względnie cichą i małomówną twarz.
Sam Andres opisał taki stan rzeczy następującymi słowami:
,,Nie jestem tak małomówny, jak się zwykle ludziom wydaje. To nieprawda, że nigdy nie zdarzyła mi się kłótnia ani że nigdy nie wdałem się w pyskówkę. Ci, którzy mnie znają, oskarżali mnie nawet o to, że zdarza mi się ich przytłaczać i próbuję urządzić im życie. Jest mi natomiast bardzo miło, gdy ktoś mówi, że wiem, jak scalać rodzinę, i potrafię znaleźć odpowiednich ludzi do odpowiedniej roboty. Jestem realistą i z natury buntuję się przeciwko tym, którzy mówią, że nie mogę mieć tego, czego chcę."
To tylko pokazuje, jak znakomitym zawodnikiem, a przede wszystkim człowiekiem jest Andres Iniesta. Dwiema najważniejszymi wartościami w jego życiu są rodzina i futbol, bez których nie mógłby normalnie funkcjonować. Drugi człon tytuły tej książki, a więc ,,Artysta futbolu" idealnie utożsamia się ze stylem gry Hiszpana, który podczas swojej przebogatej kariery niejednokrotnie udowadniał, że jest jednym z najlepszych piłkarzy w historii futbolu.
---
Każdy wierny kibic FC Barcelony powinien sięgnąć po pozycję ,,Andres Iniesta. Artysta futbolu" nie tylko z powodu osoby, o której ona jest, ale także z racji wartości, jakie są w niej przekazywane. Najważniejsze dewizy dla hiszpańskiego pomocnika są dowodem na to, jakim człowiekiem warto być i jak postępować, aby odnieść w życiu sukces.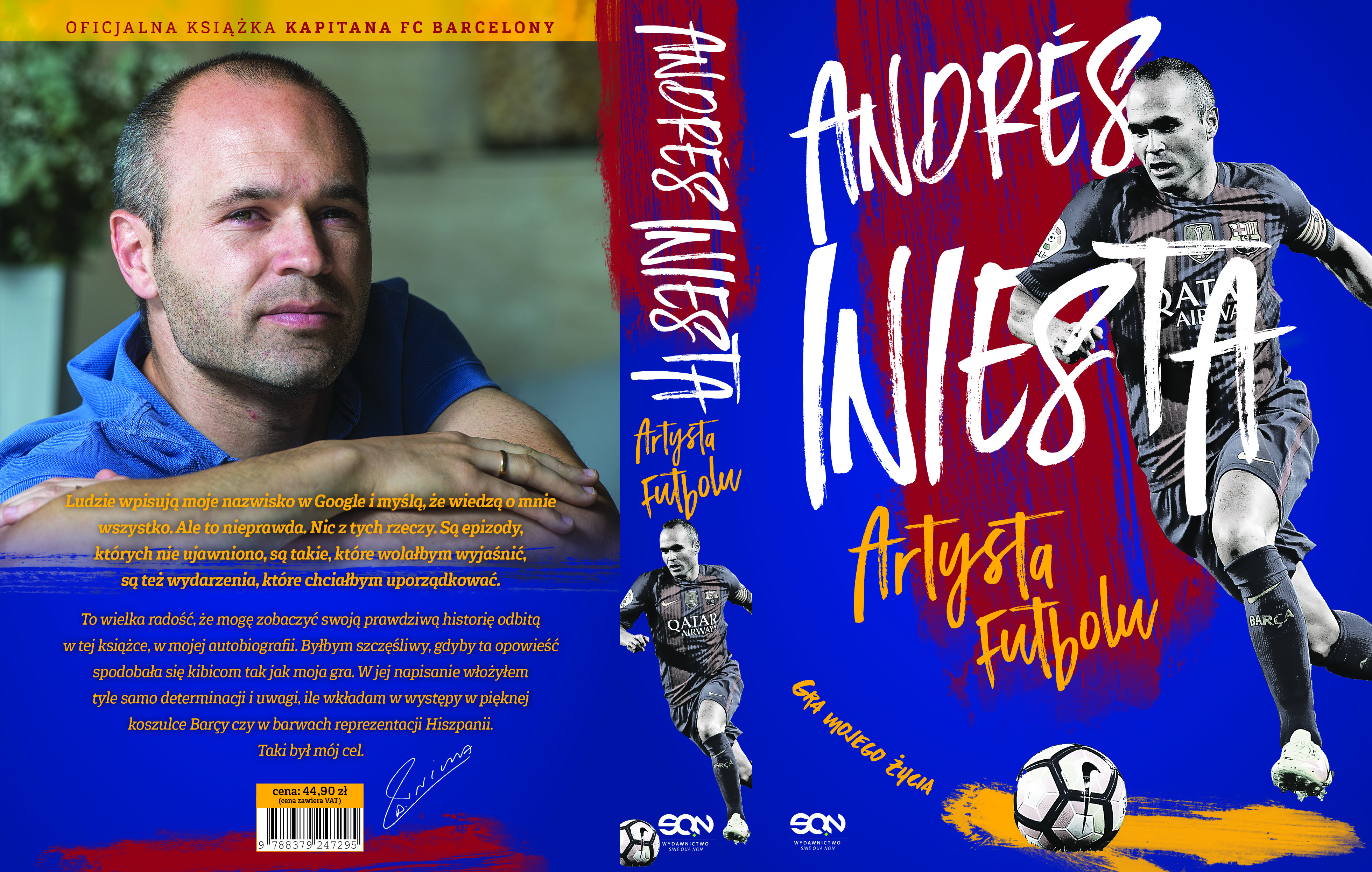 Źródło: Własne
Tagi: Andres Iniesta, Książka, SQN
Wczoraj, 16:49
14
Transfery
Odejście Neymara coraz bardziej prawdopodobne [AKTUALIZACJA]
Wczoraj, 11:53
1
Wywiady
Thiago Silva: Neymar byłby ogromnym wzmocnieniem PSG
Wczoraj, 10:34
1
Transfery
Transfer Paulinho odłożony do stycznia
Wczoraj, 10:25
1
Doniesienia
Mino Raiola agentem Verrattiego
Lip 19, 13:57
3
Byli zawodnicy
Xavi: Należy przywrócić znaczenie La Masii
Lip 18, 18:53
4
Sensacje
Szef hiszpańskiej federacji aresztowany!
Lip 18, 17:25
1
La Liga
Gaspart nowym prezydentem RFEF?
Lip 18, 10:11
5
Transfery
Ofensywa PSG po Neymara
Lip 18, 09:47
0
Kadra FCB
Kadra na tournee
Lip 18, 09:42
1
Transfery
Rakitić nie chce odchodzić
FC Barcelona -...
Wypowiedź...
SOM EL BARCA
Atletico...
Real Sociedad...
Barca 1-2...
Więcej
Reklama