Leo Messi SuperPatsonFCB @19.03.2017 | Przeczytano 1487 razy
W kolejnym meczu ligowym Barcelona będzie musiała sobie radzić bez najlepszego strzelca.
W wygranym 4:2 meczu z Valencią piątą żółtą kartkę w sezonie obejrzał Leo Messi. Oznacza to, iż Argentyńczyk nie wystąpi w pierwszym spotkaniu ligowym po przerwie na mecze reprezentacji - z przedostatnią drużyną w tabeli - Granadą.
Widmo zawieszenia na najważniejsze mecze sezonu wisiało nad Messim od dłuższego czasu. Nie jest wielką tajemnicą, że i samemu piłkarzowi zależało na wykartkowaniu się teraz, a nie kiedy przyjdzie mierzyć się z Sevillą, Malagą czy Realem Madryt, a właśnie takie mecze czekają Barcelonę w kwietniu.
Żółte kartki w tym sezonie Argentyńczyk zgromadził w konfrontacjach z Deportivo, Sevillą, Atletico oraz dwukrotnie z Valencią. Mimo, że jego obecność w grze zespołu z Katalonii jest bezcenna, to jednak dobrze, że pauzować przyjdzie mu akurat w meczu z Granadą, która dobrą formą w tym sezonie nie grzeszy.
Messi będzie mógł tym samym lepiej przygotować się do ciężkiego miesiąca, odpoczywając nieco dłużej niż koledzy. Podczas gdy oni wrócą do gry 2 kwietnia, Argentyńczyk na boisku pojawi się dopiero trzy dni później w meczu z drużyną Jorge Sampaolego.
---
ZOBACZ TAKŻE: Pirlo: Juventus ma odpowiednią jakość, by pokonać Barcelonę
---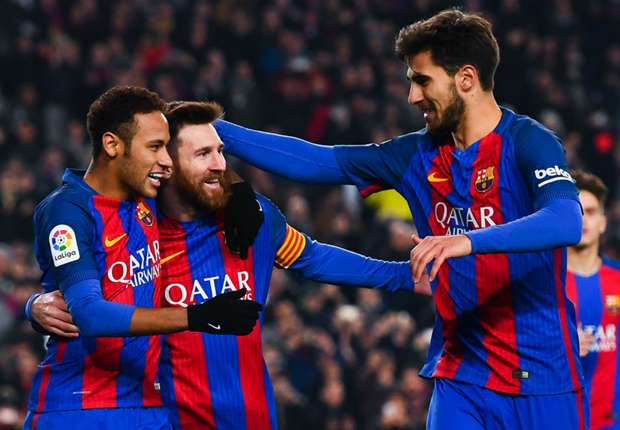 Źródło: Tekst własny
Tagi: Barca, fc barcelona, FCB, Hiszpania, La liga, Leo, Messi, Statystyki
Dziś, 15:23
1
Transfery
Barcelona wyznaczyła cenę za Turana
Dziś, 15:13
2
Transfery
Rakitic na celowniku Paris Saint-Germain
Dziś, 14:28
2
Barcelona B
Kolejna perła z La Masii odchodzi
Dziś, 14:18
1
Publicystyka
Letnie okienko, czyli keep calm and be patient
Wczoraj, 21:47
1
Transfery
Sandro Ramirez celem Realu Madryt?
Wczoraj, 17:08
1
Reprezentacje
Trio z Barcy w półfinałach ze swoimi reprezentacjami
Wczoraj, 16:24
1
Spekulacje
Riyad Mahrez zmęczony czekaniem na Barcelonę
Wczoraj, 16:08
1
Barcelona B
Carles Alena na celowniku Pochettino
Wczoraj, 09:14
2
Transfery
Verratti wściekły na włoską prasę!
Wczoraj, 08:30
8
Barcelona B
Barça B wraca do Segunda!
FC Barcelona -...
Wypowiedź...
SOM EL BARCA
Atletico...
Real Sociedad...
Barca 1-2...
Więcej
Reklama