Leo Messi SuperPatsonFCB @19.03.2017 | Przeczytano 1355 razy
W kolejnym meczu ligowym Barcelona będzie musiała sobie radzić bez najlepszego strzelca.
W wygranym 4:2 meczu z Valencią piątą żółtą kartkę w sezonie obejrzał Leo Messi. Oznacza to, iż Argentyńczyk nie wystąpi w pierwszym spotkaniu ligowym po przerwie na mecze reprezentacji - z przedostatnią drużyną w tabeli - Granadą.
Widmo zawieszenia na najważniejsze mecze sezonu wisiało nad Messim od dłuższego czasu. Nie jest wielką tajemnicą, że i samemu piłkarzowi zależało na wykartkowaniu się teraz, a nie kiedy przyjdzie mierzyć się z Sevillą, Malagą czy Realem Madryt, a właśnie takie mecze czekają Barcelonę w kwietniu.
Żółte kartki w tym sezonie Argentyńczyk zgromadził w konfrontacjach z Deportivo, Sevillą, Atletico oraz dwukrotnie z Valencią. Mimo, że jego obecność w grze zespołu z Katalonii jest bezcenna, to jednak dobrze, że pauzować przyjdzie mu akurat w meczu z Granadą, która dobrą formą w tym sezonie nie grzeszy.
Messi będzie mógł tym samym lepiej przygotować się do ciężkiego miesiąca, odpoczywając nieco dłużej niż koledzy. Podczas gdy oni wrócą do gry 2 kwietnia, Argentyńczyk na boisku pojawi się dopiero trzy dni później w meczu z drużyną Jorge Sampaolego.
---
ZOBACZ TAKŻE: Pirlo: Juventus ma odpowiednią jakość, by pokonać Barcelonę
---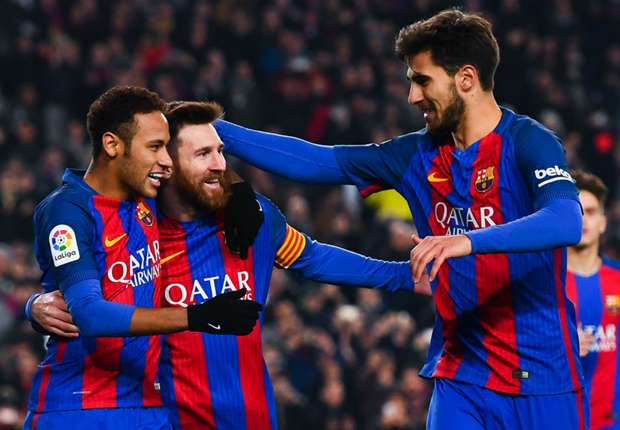 Źródło: Tekst własny
Tagi: Barca, fc barcelona, FCB, Hiszpania, La liga, Leo, Messi, Statystyki
Dziś, 11:52
1
Leo Messi
Messi nie ma sobie równych w walce o Złotego Buta
Dziś, 11:34
0
Wywiady
Robert: Liga to wyścig wytrzymałościowy
Dziś, 11:33
0
Wywiady
Alba: Chcę zostać tu jeszcze przez wiele lat
Dziś, 11:25
0
Wywiady
S. Roberto: Pozostało nam walczyć oraz liczyć, że Real straci punkty
Dziś, 11:12
0
Wywiady
Pique: Gwizdy nie robią na mnie żadnego wrażenia
Dziś, 11:09
0
FOTORELACJE
Espanyol - FC Barcelona (0-3) [FOTORELACJA]
Dziś, 11:03
1
Salon prasowy
"Chcą tę ligę"
Dziś, 10:53
0
Wywiady
Rakitić: Musieliśmy czekać i w końcu przyszła na nas pora
Dziś, 10:01
0
Statystyki
Ciekawostki po wczorajszym meczu z Espanyolem
Dziś, 09:42
0
Oceny pomeczowe
Pomeczowe oceny: Espanyol 0-3 Barcelona
FC Barcelona -...
Wypowiedź...
SOM EL BARCA
Atletico...
Real Sociedad...
Barca 1-2...
Więcej
Reklama