Składy SuperPatsonFCB @19.03.2017 | Przeczytano 349 razy
Poznaliśmy oficjalne jedenastki na spotkanie 29. kolejki La Liga. Barcelona w najsilniejszym zestawieniu.
Wskutek wczorajszej wygranej Realu Madryt w Bilbao, Barcelona jest dzisiaj zmuszona do wywalczenia trzech punktów. Na Camp Nou przyjeżdża będąca w tym sezonie w słabej dyspozycji Valencia, jednak to właśnie Nietoperze jako jedni z nielicznych potrafili w tym sezonie pokonać lidera. Kto powalczy o komplet oczek?
Luis Enrique postawił na żelazną jedenastkę, w najczęściej używanej ostatnio formacji 3-4-3. Do składu po urazie wraca Neymar, w obronie zaś gra Umtiti, z którym Barcelona zawsze wygrywa w rozgrywkach ligowych.
Oto pełne jedenastki obu ekip:
---
FC BARCELONA
---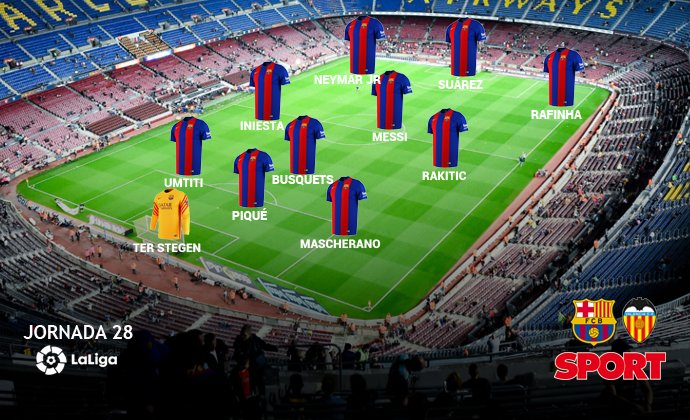 Ławka rezerwowych: Jasper Cilessen - Denis Suarez - Paco Alcacer - Jordi Alba - Lucas Digne - Sergi Roberto - Andre Gomes
---
VALENCIA
---
Ławka rezerwowych: Jaume - Siqueira - Abdennour - Bakkali - Zaza - Medran - Valderrama
---
ZOBACZ TAKŻE: Zapowiedź meczu: FC Barcelona - Valencia
---
Źródło: Twitter
Tagi: Barca, fc barcelona, FCB, Hiszpania, La liga, Składy, Valencia
Dziś, 19:29
0
Kadra FCB
Valverde podał listę zawodników na mecz ze Sportingiem
Dziś, 19:11
0
Byli zawodnicy
Mathieu: Jeśli będę celebrował bramkę, to tylko dla Bartomeu i Roberto Fernandeza
Dziś, 15:08
0
La Liga
Barcelona vs Malaga w sobotę 21 października!
Dziś, 12:00
0
Ligi europejskie
Typujemy: Liga Mistrzów! #2
Wczoraj, 23:21
1
Ciekawostki
Urodziny Camp Nou!
Wczoraj, 18:23
1
Ciekawostki
Najlepszy start Valverde w La Liga!
Wczoraj, 18:07
1
Wywiady
Pablo Machin: Messi nie był tak decydującym piłkarzem, jakim potrafi być
Wczoraj, 17:58
1
Ciekawostki
Suarez uczcił swój jubileusz
Wczoraj, 17:36
1
Wywiady
Maffeo: Kiedy kryjesz Messiego, musisz myśleć, że jest on normalną osobą
Wczoraj, 17:22
0
Wywiady
ter Stegen: Potrafiliśmy wykorzystać swoje szanse
FC Barcelona -...
Wypowiedź...
SOM EL BARCA
Atletico...
Real Sociedad...
Barca 1-2...
Więcej
Reklama