Wywiady SuperPatsonFCB @18.03.2017 | Przeczytano 1461 razy
Trener Juventusu zabrał głos w sprawie losowania par ćwierćfinałowych Ligi Mistrzów.
We wczorajszym losowaniu los skojarzył ze sobą Juventus i Barcelonę. Turyńczycy będą więc mogli zrewanżować się zawodnikom Luisa Enrique za porażkę w finale dwa lata temu. Teraz oba zespoły zaczną z czystą kartą i wielką chęcią awansu do najlepszej czwórki rozgrywek.
Dzisiaj kwestię ćwierćfinału Ligi Mistrzów poruszył Massimiliano Allegri.
To będzie wielkie spotkanie, ale zostało jeszcze dużo czasu. Póki co mówię "zobaczymy", bo jeszcze wiele dni zostało. Nie trzeba ciągle mówić o Barcelonie, do meczu z nią mamy cztery inne spotkania: z Sampdorią, Napoli, Chievo w lidze i ponownie z drużyną z Neapolu w Pucharze.
Szkoleniowiec wypowiedział się także w kwestii coraz częstszej obecności Juventusu w decydujących fazach europejskich rozgrywek.
To, że Juventus jest tutaj, jest całkowicie normalne. Dla mnie to nie jest nic niespodziewanego. Dla Juventusu całkowicie zwyczajnym zjawiskiem musi stać się obecność w najlepszej ósemce Europy.
Na sam koniec Allegri zwrócił uwagę na priorytet klubu, którym na razie jest zdobycie mistrzostwa.
Musimy wygrać mistrzostwo Włoch, zostało dziesięć spotkań, a Roma może zdobyć 30 punktów, podobnie jak Napoli. Nie jesteśmy nawet pewni trzeciego miejsca na koniec sezonu. Celem numer jeden jest wygranie ligi - dokonanie tego po raz szósty z rzędu byłoby praktycznie niemożliwe.
Pierwsze spotkanie pomiędzy Juventusem a Barceloną 11 kwietnia w Turynie.
---
ZOBACZ TAKŻE: Kadra Valencii na jutrzejszy mecz
---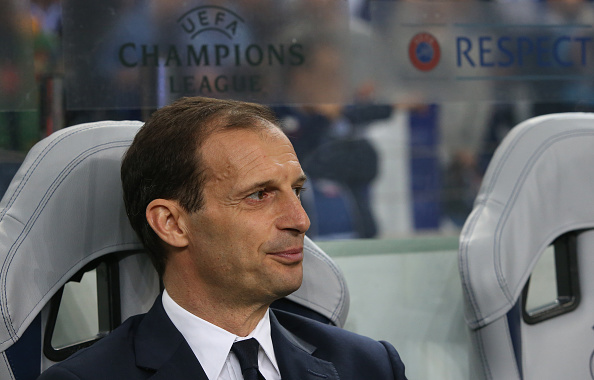 Źródło: Sport
Tagi: Allegri, Barca, fc barcelona, FCB, Juventus, Liga Mistrzów, Massimiliano, Wywiady
Wczoraj, 20:49
2
Kadra FCB
Ernesto Valverde - nowy trener FC Barcelony
Wczoraj, 17:06
1
Kadra FCB
Aleix Vidal trenuje dalej
Wczoraj, 15:02
1
Transfery
Oferta za Digne'a
Wczoraj, 14:22
2
Kadra FCB
Ter Stegen na dłużej w Barcelonie!
Wczoraj, 14:01
0
Wywiady
Aleix Vidal: Wiara oraz ciężka praca dają efekty
Wczoraj, 14:00
0
Statystyki
Triumf Barcy w Copa del Rey w liczbach
Wczoraj, 13:50
0
FOTORELACJE
Campeones!!!
Wczoraj, 13:41
1
Ciekawostki
Messi i Iniesta z trzydziestoma trofeami
Wczoraj, 13:32
0
Copa del Rey
Zawodnicy z największą liczbą triumfów w Pucharze Króla
Wczoraj, 10:57
0
Ciekawostki
Rodzina Messich wspólnie celebrowała zwycięstwo Barcy
FC Barcelona -...
Wypowiedź...
SOM EL BARCA
Atletico...
Real Sociedad...
Barca 1-2...
Więcej
Reklama